Instead of a "skill of the day", now we have a random skill that gets the 50% boost. It changes every 12 hours. You can always check what skill is boosted in your notes tab.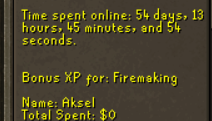 THE SERVERS BASE XP RATE HAS BEEN CHANGED FROM 200 TO 150
This is to prepare for the rollout of different game/xp modes to play on.