happy new year! coming in with a lil QOL update
the skill of the day is now actually 24 hours not 12.

changed the well to 35m cuz why not

flax has been added to ironman general store upon request. its in General Store.

Bolts for ironmen have been added by request. Theyre in the starter combat shop.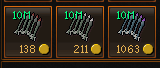 combat skills have been removed from the skill of the day bonus, and dung has been added.